English Introduction
The Construct Monster, colored gray are a new kind of monster wich first appeard in New Mechanics. Currently, they all seems to look like cyborg or android. They can only be summoned with a Construct Summon.
Powers
Construct Monster can be quite summon in an apropriate Deck. With them, you can rapidly make an effectual counterattack.
Weakness
Their greatest power is also their greatest weakness : because of their effect, you risk to lose swiftly your monster card.
Construct Monster

French

Monstres Construits

English : Monstre Construit

Appears in

Lists
French Version
Les monstres Construits, colorés gris sont un nouveau genre de monstres qui sont apparus pour la première fois dans New Mechanics. Pour le moment, ils ressemblent tous à des cyborgs ou à des androïdes. Ils ne peuvent être invoqué que par Invocation Construite.
Puissance
Les monstres Construits peuvent être invoqués facilement dans un Deck approprié. Avec eux, vous pouvez faire une contre-attaque rapidement.
Faiblesse
Leur plus grande force est en faite leur plus grande faiblesse : à cause de leurs effets, vous risquez de perdre rapidement toutes vos cartes Monstres.
Exemple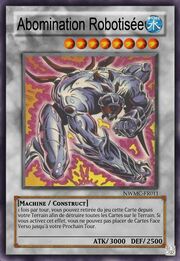 Community content is available under
CC-BY-SA
unless otherwise noted.