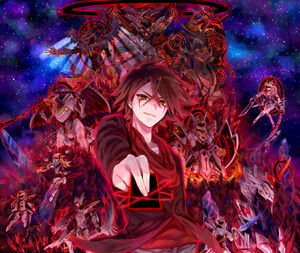 The Phantom Alliance is a series of DARK monsters used by Reyalp Ayakashi in the Yu-Gi-Oh! The Perfect Dynasty Series.
Archetype
Design
The monsters of the Phantom Alliance all have a dark themed look and some of the names and designs of the monsters are referring to their jobs within the Alliance.
Members and Job
Playstyle
The deck focusses on special summoning their archetypal monsters to gain field advantage or to summon their powerful Xyz monsters. Cards such as Strategist of the Phantom Alliance, Afterghost of the Phantom Alliance and Knight of the Phantom Alliance special summon themselves or new Phantom Alliance monsters to the field. The level 7 monsters have effects that trigger when they are Special Summoned to the field. The deck specializes in flooding the board with Phantom Alliance monsters
The spell card line up consists out of effects that special summon their archetypal monsters or to change their levels to 7 to summon their powerful rank 7 Xyz monsters. Their field spell helps to recover Xyz materials and protecting the stronger monsters on the field.
Weaknesses
This deck like all Special summon based, is vulnerable to cards that prevent special summoning.
This Deck is made out of DARK monsters, making them vulnerable to "Shadow-Imprisoning Mirror".
Cards like Skill Drain can stall the deck greatly
The deck relies on Searching, making them vulnerable to Search stop cards such as Ash Blossom and joyous Spirit or Droll-and-Lock Bird.
Trivia
The deck is based on a Real Life Discord clan called The Phantom Alliance.
The clan has recently been disbanded
Kiyubi of the Phantom Alliance is a shorter version of Kiyuubi which means Nine-Tailed Fox in Japanese
The deck is usable in Dueling Book as all cards are open for everyone to use.
During the making of this Deck the creator asked his fellow Clan members to help him create it. Some of the monsters in this deck are based on the roles in that clan.
Full List